It took me some time to finally climb my projects, but till now, I finally got them all! What blows my mind again and again, is the process and the journey with each of the amazing lines and (being 40 years old), what you can do when you really want something, when you are passionate, persistent and patient enough and when you are willing to to sacrifice some things - not chocolate though!
I already managed to climb "Big Kat" one and a half years ago (time flies when you get older...) and wanted to do a vlog ever since to document the process because I got my (fat) ass kicked a LOT over two years of trying it on and off. Work, life and climbing got in the way though. So here you go with the story and the process to one that did NOT get away - "Big Kat, 8B+".
And it was once again not the "usual" three-day-epic. To give a better understanding of what it means to really test your limits, I put together this vlog. As you can see in the different sequences, failure is the name of the game in 99.99% of the time. Not glorious at all, but it teaches you a lot when you fail, fail again, fail better then send!!!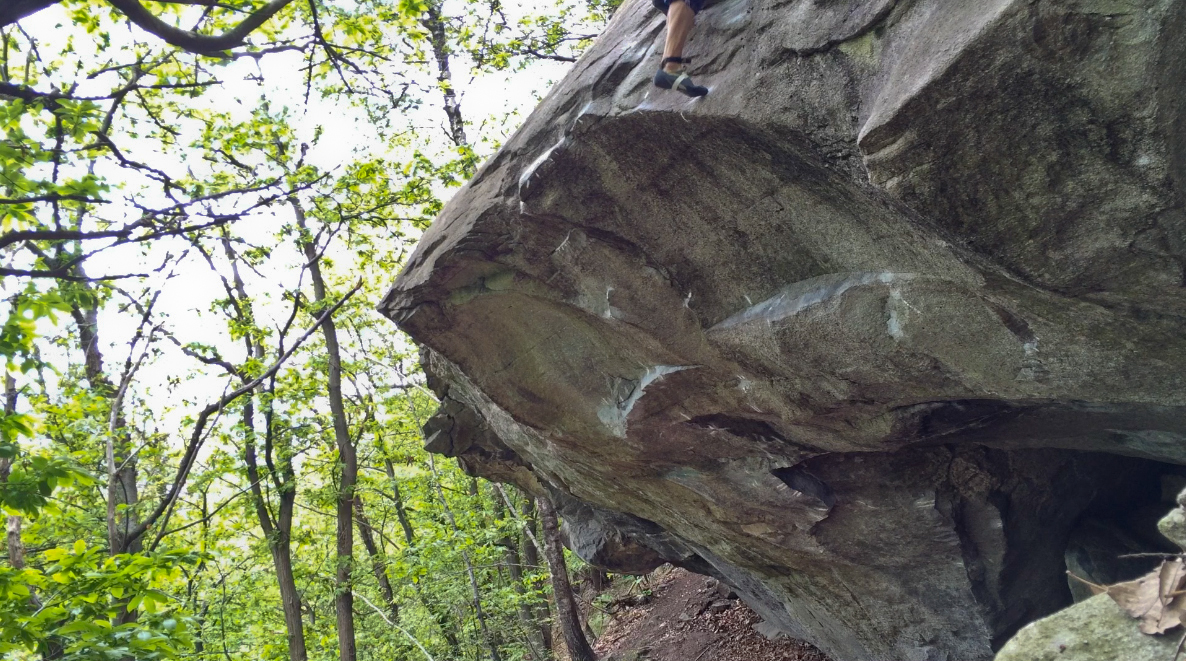 A special moment when you have failed for so long......finally getting onto that 5m slab to top out BIG KAT, 8B+
It seems I have the funny talent to go for bouldering projects that I can climb relatively quick every time, from either one move in or up to the last move. It took six years of falling at the last move on "Highlander, 8C" at Sustenpass, I still ask myself how I could fail for so long as I could climb big sequences pretty fast. However, there was a very insecure toe-hook at the very first move and also the next foot move troubled me a lot. I just fell on EVERY single move. I had to readjust every little bit of beta till it worked perfectly on link. I even fell twice from the top-mantel and this, despite having it done a hundred times, turned out it was just too hard when having cold fingers. So I went back on the ropes for 3hrs and found a slightly better micro-beta that was the last missing part to the puzzle. The next time I was up there I floated up the mantle. A perfect ending to another perfect journey.
For sure it would've been "smarter" to go home, train, get stronger and just send. But then in the end, it's all about what your motivation is in climbing. When I was younger, it was all about sending boulders, move on, next one... get as much as you can. But the longer I climbed, the more I got interested in the process; solving a puzzle and find a sequence that not just works but that climbs fluid and nice is. I often climb boulders a bit harder because I like a particular move/sequence. I do climb and train indoors as well and I do enjoy these sessions, but I want to be "outside", bouldering on "real rock".
I organised my whole life, skipped a career in a big business (what you normally go for with a master in business and economics) to be out there bouldering on the rocks. I enjoy the drive to the boulders, the anticipation, the warm up, the cleaning of the holds (can people please start to clean the holds before they leave!!!), the padding, to get ready for tries on my projects, to find subtle micro-betas, to understand moves, body positions, to laugh, to scream, to have fun, to be angry, to be totally focused, to climb, to move. and you can "train" on your projects as well, just not nearly as efficient (skin, conditions etc...).
THE one move that got the better out of me: a toe-hook from which I never could say if it stayed or came off despite me being 100% sure I did the exact same move every time. I finally found a body placement that put up the sucess-rate but then made it more difficult to get the next move done. This resulted in me slipping off from the move (foothold) again and again.
Because I am an old weak lad, I then used a kneepad for a knee bar; you think this was an easy move then? 
Well go there and try... ;)
I've never had so many slipping toes- and heel hooks. I knew I was physically ready after the first season working it - but sometimes when I felt strong and wanted to climb it, I pulled myself up too high and suddenly lost the heel- and/or toe-hooks, sometimes I was too low, then my shoe broke on the heel...
The next problem was the heel hook from the standing-start. This was easy for me from the standing-start, even from the second move in, but I lost this heel again and again coming from the real start and on the next match-move I slipped off again and again as well.
And then you feel super strong and 100% sure you are going to send but you pull up too high and you just slip off footholds...
And so I finally was ready to send. But the next problem was the good rail where you had to match. As it was getting warmer and warmer the friction got worse. I had a few days with super strong wind, but then it was so dry that my skin turned into glass and I just slipped off. Watch in the vid how desperately I try to "find friction"...
All this can lead to frustration as well. Especially slipping off (despite still having power) got me really angry...
To "save" your ears, I disabled the sound here. It's not "nice" and I am not proud of it but its part of the process and it feels so good to relief some steam from time to time...
I went back on a regular afternoon after lunchtime and after working in the morning, instead of going at night time. It was mid May and already 20 + degrees in Chirionico, so it was way too warm. There was nobody around, no wind... but I finally had my perfect beta and the will to put this beauty (and/or beast) down before summer would hit hard with temps in the 30 degrees range. So I did pull on - and finally put it down into submission.
The send-go was a nice one, as I did just one little minor error. I just love it when the pieces finally come together and one move flows into the next, but it was a real fight. It's always a big fight for me. It never felt easy when I sent a longstanding project, never!
With the correct beta, I could have climbed this a year earlier. But then again. I love the process and it's also my "training" and the thing that keeps me going. Solving the puzzle so that every move went down perfectly and smooth into the next, was what I enjoyed most. Now onto the next mission!
The big send!