The Aerial Pack is the largest capacity bag in the Moon Climbing collection. With 100% Climbing at its core, it truly is the climbing bag that does it all. However, despite its rock climbing origins, the Aerial Pack is an incredibly versatile backpack which offers exceptional durability, ease of use and carrying comfort.
Unpacking the Aerial
Gearing up couldn't be simpler. Drop the pack to the ground and unzip the YKK zip straight down the middle of the main compartment for immediate access to all your kit - draws, cams, shoes, the lot.
&nbsp
The Aerial Pack in Detail
Made from P600D ripstop, this 38 litre backpack puts durability, comfort and practicality above everything else. There are no pointless gimmicks or purposeless design features, the Aerial Pack's specification has been carefully fine-tuned to ensure it provides everything you need to get your kit to and from your climbing destination.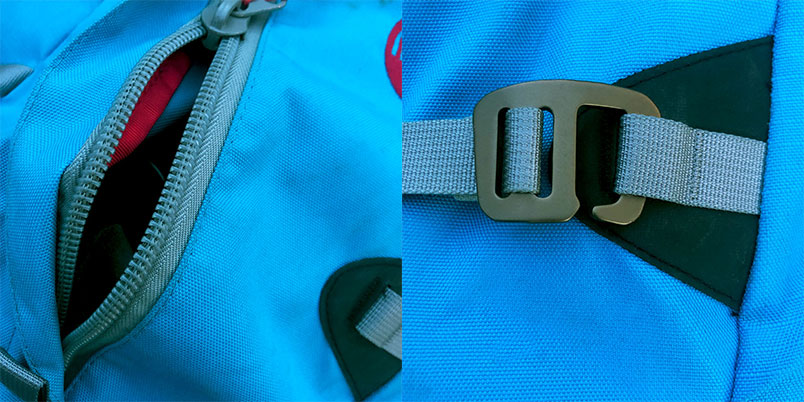 A removable padded hip belt, padded shoulder straps, adjustable chest harness and integral moulded back panel allow for a customised fit - essential for reducing fatigue as you walk to your destination. The wide mouth top snaps closed in the middle, then rolls and fastens at the sides with quick-release buckles to create a slick, secure seal.
Tension straps on the outside can carry your rope and there's also an integrated rope bag tarp within, which can be removed by unclipping its buckle. You've got a generous pocket for your guidebook, map, wallet and keys and an easy-to-grab reinforced carry handle at the top.
Basically, there is nothing on this pack that a climber doesn't need and everything he or she does - it's tough, comfortable and unbelievably easy to use, staying true to the Moon Climbing design ethos of "100% climbing".