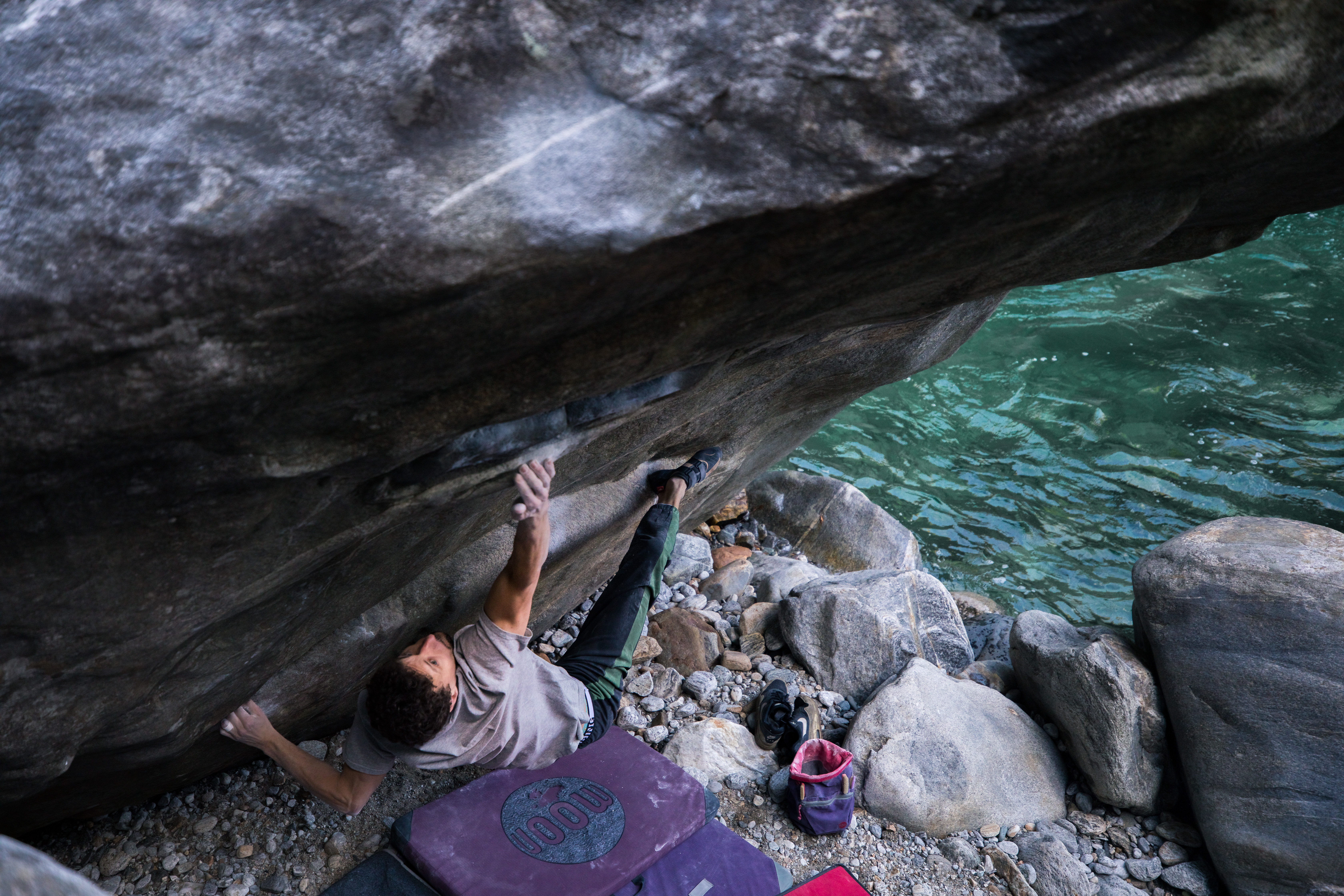 Photo credit Molly Thompson Smith
December 2012. My first encounter with the Big Island. The legendary 8C test piece in Fontainebleau. I could barely hang the holds and was far off the moves in isolation. Could I ever do this? It felt like a vague illusion to imagine this.
December 2015. After putting in the work "train hard, climb harder" I did it! Sending Big Island. This was it. I was 100% certain that this was the pinnacle of my climbing. I just turned 29, so how could I improve with 30 just around the corner? Climbing a second 8C didn't seem realistic at that time.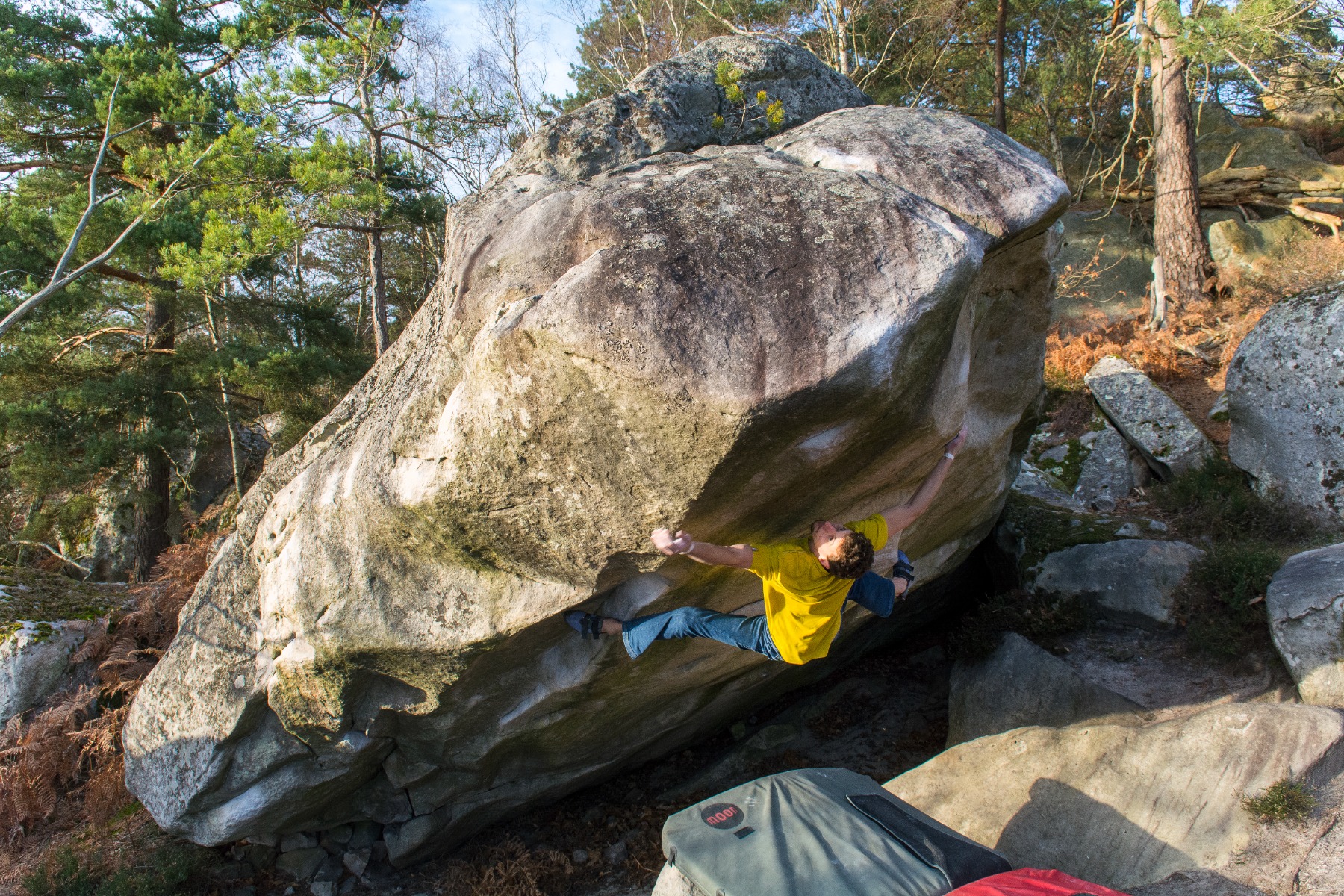 Photo Credit Bart Van Raaij
January 2020. I still got it! The story of two worlds (8C). With this send I could let the 'pinnacle of my climbing thoughts' go and focus on hard sends to come. I needed this to break the mental barrier.
March 2021. Maybe my biggest dream in climbing was to do a hard FA. And not just that, a hard FA of a beautiful boulder in Fontainebleau. As I don't live in Font, I never thought this was a realistic dream, so I never gave it much attention. But I always imagined it, how cool would it be to realise? On a previous trip I had a little play on the sit start project of le Pilier du Desert. An absolute classic and a gorgeous boulder in the middle of a well know sector in Font. It felt hard, but not impossible. I devoted this two week trip to Pilier assis and got rewarded. The first assent of le Pilier du Desert assis (8C). My climbing dream had become reality.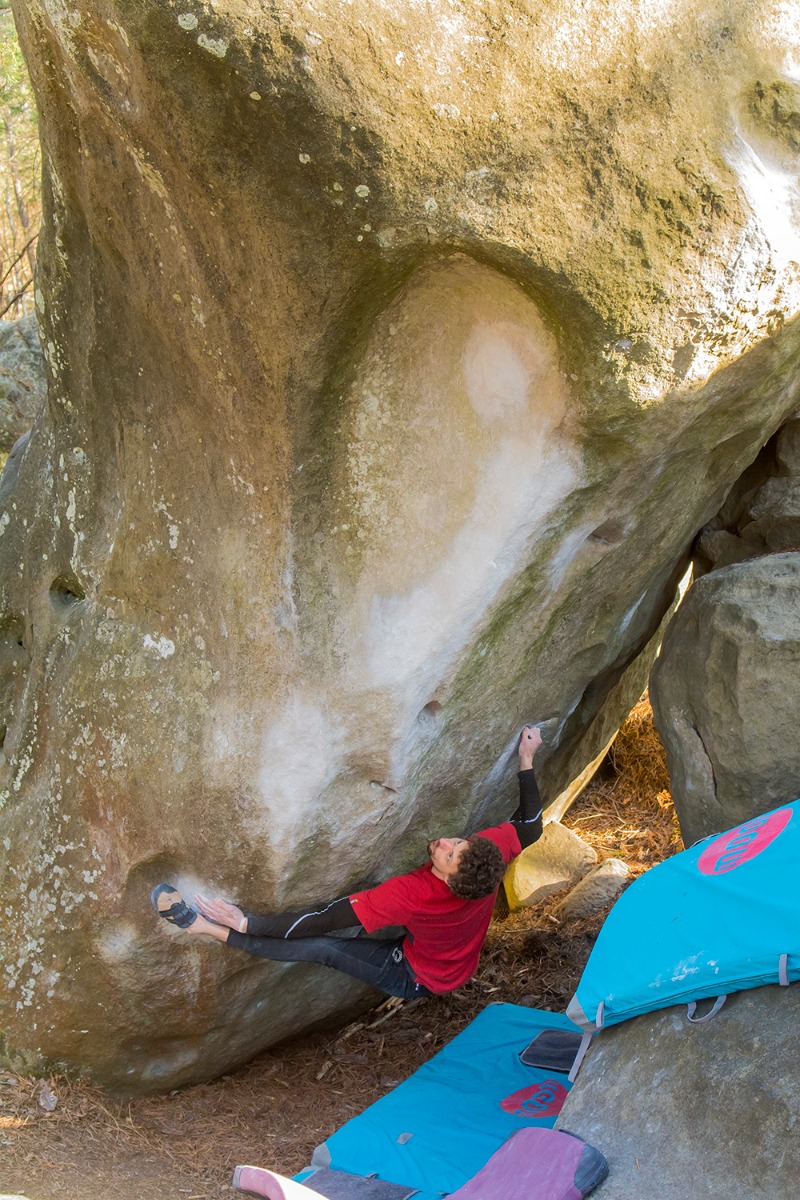 Photo Credit Bart Van Raaij
November 2021. With the realisation of Pilier I just became more hungry. I felt stronger than ever, and maybe more important, more confident than ever. I noticed that the trip goals where raising, and I was thinking of trying multiple 8C's. Actually, I was thinking of sending multiple 8C's. I ended up with two this trip: Der mit dem Fels tanzt and Dreamtime. Especially Dreamtime was special for me, the one and only classic!
December 2022. I am playing with the idea of 8C+ for a while now, stepping up my game. But finding the right boulder is hard. It needs to suit my style to some extent. And more importantly, it needs to inspire me. Spending a lot of time on a piece of rock that doesn't inspire me will never work. My first thoughts where Ephyra in Chironico, a problem with long moves and (kind off) skin friendly. I invested a week in November on this one and could make all but one move. Came back to it in December and finally did this last move, but only once and I could not repeat it. At first I felt confident that Ephyra could be 'the one', but I started to feel less and less confident about it. Also I got fed up with trying this one move. So I made the discission to leave Ephyra for now and continue my search for a suitable project.
January 2023. Usually Font is the first place I think off when I start a project search. It's closest to my home and simply the best rock in the world. But I wrote off all 8C+'s in Font. None of them looked like 'my style' or I simply thought they were not worthwhile my investment. Until I saw a video of Niky Ceria in La Révolutionnaire. I already wrote this one off because it looked like an ugly low roof. And don't get me wrong; it's low, but it's far from ugly. The moves looked great and I got enthusiastic about it. I went on a quick 'recon mission' with my friend Tim Reuser, both of us did all the moves on the first session. That made me really motivated to go for this one. The hard part of la Révolutionnare consists of 11 handmoves and about the same number of footmoves. So doing all single moves is great, but it's still far away from sending. Having a project for motivation is great, but having the same project as your training buddy is even better! With full on motivation Tim and I tried to up our game, great sessions in the gym! "We train for 8C+! We are talking dedication, and that's what we're here to do".
March 2023. Owww man, I was close! With just a few days more I think it could have worked out. The conditions where just amazing and the learning curve was steeper than expected. My goal of this trip was to make some good links, but I thought I would not be ready yet to do full on send tries. I exceeded my expectations and could do multiple send tries, even coming all the way to the end. Also shout out to my buddy Tim for sending, pure motivation there! I am 100% confident now I can do it. Just need to find a window to send, weather and time need to line up.
April 2023. La Révolutionnaire was on my mind every day. It was not all I could think of. But every day I had a moment where I closed my eyes and saw myself climbing the boulder, remembering the whole sequence over and over again. I just need one or two more sessions, I feel it! Only 'summer is coming' so time was running out for this season. I planned a last minute short trip to Font. It was a bit of a tricky one because the weather looked highly unstable, but with a bit of luck… And lucky I was. Almost no rain, not too warm and a nice little breeze. I had three days, so the best approach was climbing – resting – climbing. On the first climbing day it went decent. I made some good links, but not as good as in March. But I hadn't climbed for a week because of a minor finger injury and work obligations, so the belief was still there. The next day it was rainy, so the perfect day to rest. On my last day I was psyched, but also a bit tired. I tried not to focus on my lack of energy. Stay positive, enjoy the moment, the forest, the process. And most of all: stay positive! After lunch, I start feeling a bit more energetic (never been a morning person) and my climbing was starting to feel better and better. At about 16.00 I had my best go. It was so close! It felt so good all the way, only my body tension left me at the last move. The last move! Shiit, that should have been the send. Still out of breath, I was reflecting. It is possible 100% certain, only will I have enough time today? My plan was to drive home at around 16.00, so I was already late. But what is more important? A good night sleep, or the chance of sending your project? Not a real question, I know. So I took another rest for that last go. And it went…terrible! My skin was hurting, my muscles were sore, my energy was gone. Well, I tried. I thought it was over, I missed my window for this trip and I was ok with it. The progress was there and maybe there was one more weekend I could come to Font this season.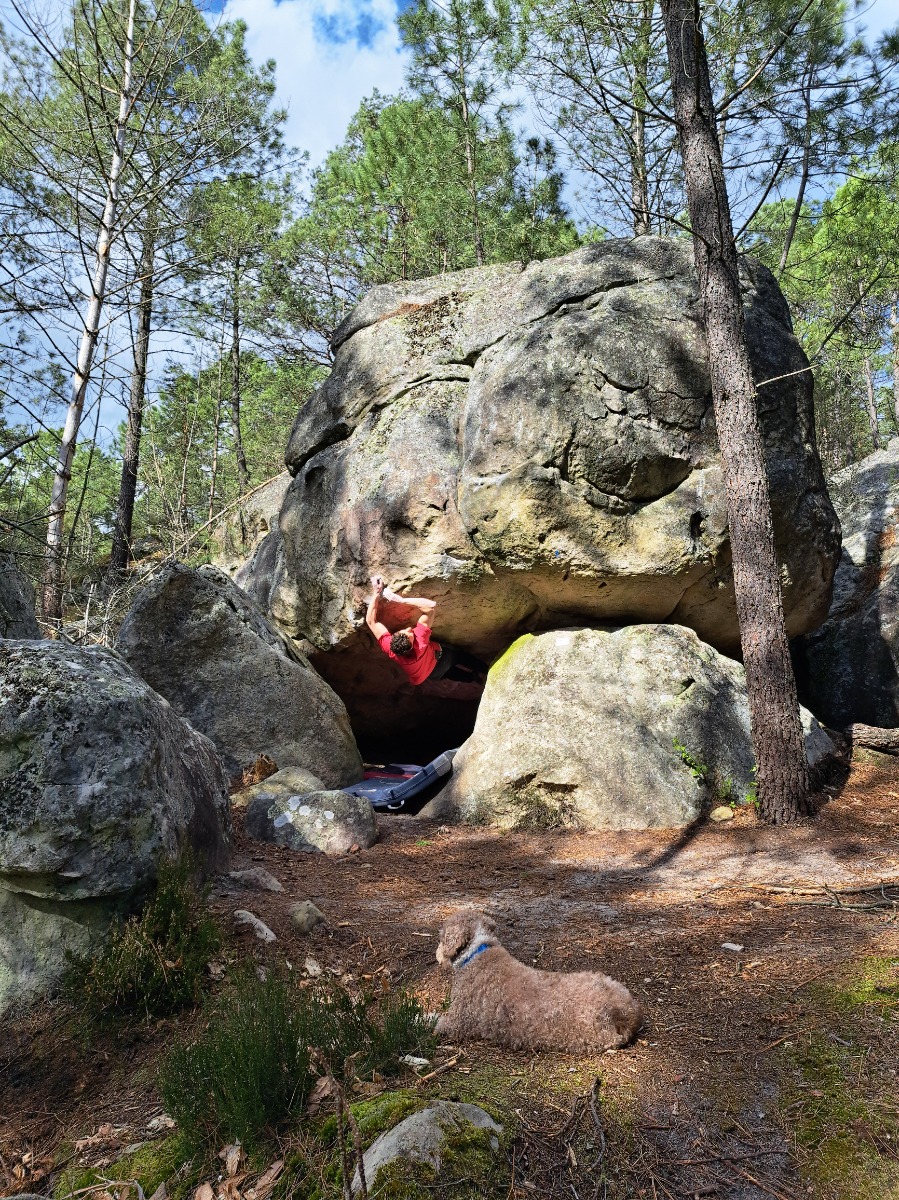 Or…should I give it one more go? There is nothing to lose, and I am here anyway. I have to sit in the car for six hours anyway and if I'm tired or a little more tired, who cares. So f*ck it, one more (training) go. And there it was, the classical (and corny) 'last go'. No pain, no soreness and full of energy. I was flying through the boulder, everything went smooth and on autopilot. Resulting in a big victory scream on top of the boulder. Even thinking back of the moment, while writing this down, fulfils me with a feeling of happiness and calmness. The same feeling as I had sitting those six hours in the car driving back home.
How wrong was I on that day in December in 2015? Decline doesn't come with 30. Maybe with 40? Who knows? We'll see. There are already plans in the making together with Tim. Maybe we can step our game up even a little more! Maybe I haven't even reached my peak yet!