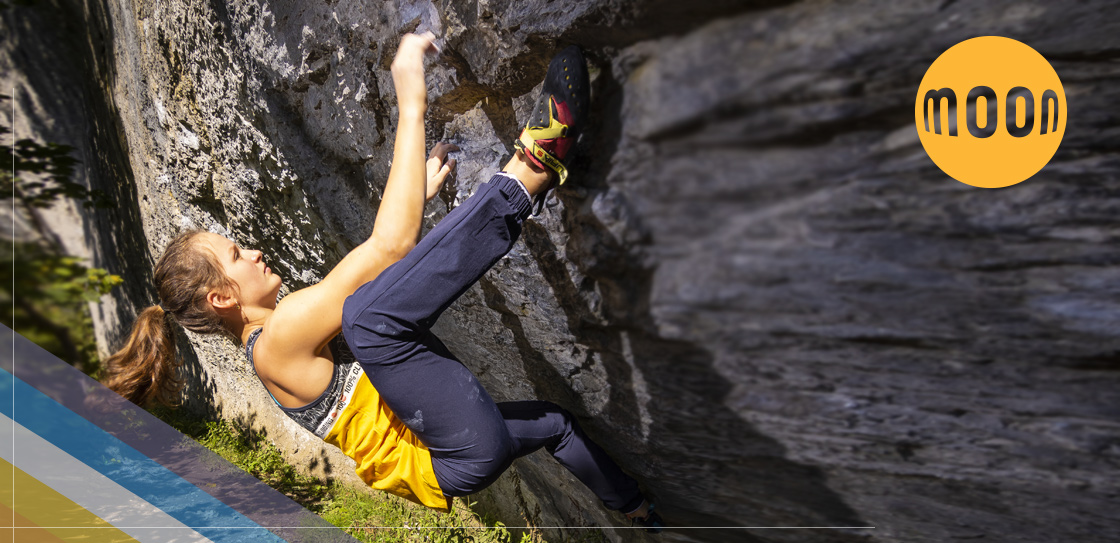 Robin Casey
Years Climbing: I first went climbing when I was four years old, but have been climbing on a regular basis for eleven years.
Local Crag: Bridestones, it's normally freezing but full of brilliant boulders!
Favourite Climbing Destination: Has to be deep water soloing in Mallorca, because of both the fantastic climbing, and the fact that you can relax on the beach and go swimming between sessions!
Best Climbing Experience: Was when I spent a couple of weeks in Italy, staying and climbing with a friend that I had made from family holidays in previous years. We climbed outside almost everyday for two weeks and I was introduced to so many new limestone crags filled with beautiful lines. Giving me so much inspiration, especially for climbing on rock.
Favourite Moon Climbing Product: Is the striped bamboo tech top, because its perfect for climbing and training in, and comfy enough to lounge around in.
What is it about Climbing you love: My favourite thing about climbing (which I have definitely appreciated over the past year) has to be the friends I've made through the sport. I absolutely love figuring out beta and making up crazy moves with other people!
Career Highlights: My biggest career highlight to date was probably coming second in the British boulder cup in 2020.
When not Climbing you like to: When I'm not climbing or at school, I like to play the piano, go running with my dogs, and when it's not too cold, go wild water swimming.